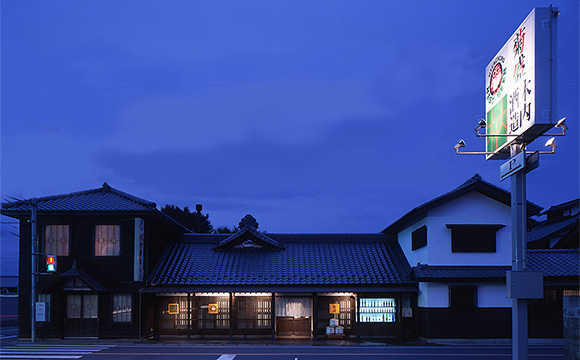 ※Personal beer and sake brewery tour is currently not available.
※外国人向けのツアーの方は只今受付休止中になります。
JR Ueno Station (上野) to Mito Station (水戸)
Express trains (Super Hitachi or Fresh Hitachi) depart from Ueno for Mito every 30 minutes during the day. At Ueno station, look for the Joban Line (常磐線) Hitachi Express, usually depart from the Platform NO.16 or 17 (traveling time from Ueno to Mito: approx. 1 hour)
JR Mito Station (水戸) to Hitachi-Kounosu Station (常陸鴻巣)
Change to Suigun line (水郡線) ** at Mito station, the Platform NO.1 or 2
(traveling time from Mito to Hitachi-Kounosu: 20 minutes)
TRAVELING TIME IDEAS
dep. 12:15 - arr. 12:35 / dep. 13:15 - arr. 13:36 / dep. 14:15 - arr. 14:35
If you have lunch at our soba restaurant, we suggest you to take below trains:
(Ueno - Mito) dep. 11:00 - arr. 12:06, (Mito - Hitachi-Kounosu) dep. 12:15 - arr.12:36
(Ueno - Mito) dep. 12:00 - arr. 13:06, (Mito - Hitachi-Kounosu) dep. 13:15 - arr.13:36
Hitachi-Kounosu station to Kiuchi Brewery (by walk)
After getting on the train at Hitachi-Kounosu Station, go straight behind the station. When you can see the main street, turn left and keep walking, then you can see Kiuchi Brewery on your left side at the trac junction (approx. 5 minutes walk from the station).
**Using the Suigun Line (水郡線) - Please be careful about the following**
・There are no station announcements or English information on the train. It's advisable to check the exact arrival times at Hitachi-Kounosu Station. (it's the 7th stop from JR Mito station, "常陸鴻巣" in Japanese writing)
・Suigun line is an one-man operated train often without a conductor on board. If the train is operated with a conductor, please pass the ticket to the person upon arrival. If the train has no conductor in operation, be careful as only the front door at the rst carriage will open.
・It's advisable to purchase a return ticket from Ueno to Hitachi-Kounosu at Ueno station (all the trains are operated by JR) as Hitachi-Kounosu is an unmanned station. However you are still able to purchase the ticket in the train if the conductor is on board. If no conductor is apparent, please obtain a "zone charge" ticket from the machine installed in the train carriage and the payment can be made at the ticket counter in Mito Station.